Don't miss out on this once in a lifetime opportunity to have your's and your friend's memories preserved for a lifetime.     This year's yearbook is a one of a kind publication that will immortalize the entire year in a way you never thought possible.    Help make it the best ever by purchasing, personalizing and contributing to this year's book.

Download the "Replay It" app from the app store, create an account, and join Divine Child High School to upload and share pictures whenever you want. This app links straight to our yearbook site, so everyone can participate in making our yearbook!

There's a limited time to order your yearbook, ORDER YOUR BOOK TODAY!

There are only three chances to pre-order this year's yearbook.   
Click here
to order and personalize your yearbook using a credit card, check or PayPal account.  
Halloween Sale

Oct. 26th - Oct. 30th

Thanksgiving Sale

Nov. 16th - Nov. 20th

Christmas Sale

Dec. 14th - Feb. 26th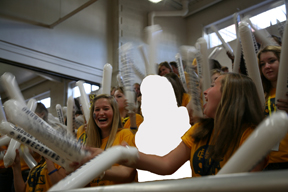 This year you can create your ad all online!  The deadline for ads is January 15!

Create it yourself online